The President of the Republic of Macedonia, Dr. Gjorge Ivanov, together with his wife, Ms. Maja Ivanova and his son Ivan, today attended the central celebration of the Nativity of Christ – Christmas in the Cathedral "St. Kliment Ohridski ", in Skopje, where the Head of the Macedonian Orthodox Church – Ohrid Archbishopric, HH Stefan, received the Hierarch's Liturgy. 
After the liturgy, President Ivanov congratulated the citizens with Orthodox Christianity the great Christian holiday Christmas, wishing them great health , joy, happiness, but also unity, both for the holidays so throughout the year.
"Holidays are not just for holiday but also for remembrance, to remind us of everything that has allowed us to survive through the centuries. Let's remind us that we should love, respect and protect what we have, not what we do not have. Therefore, to protect, respect and love the Republic of Macedonia, because we have it, "President Ivanov said.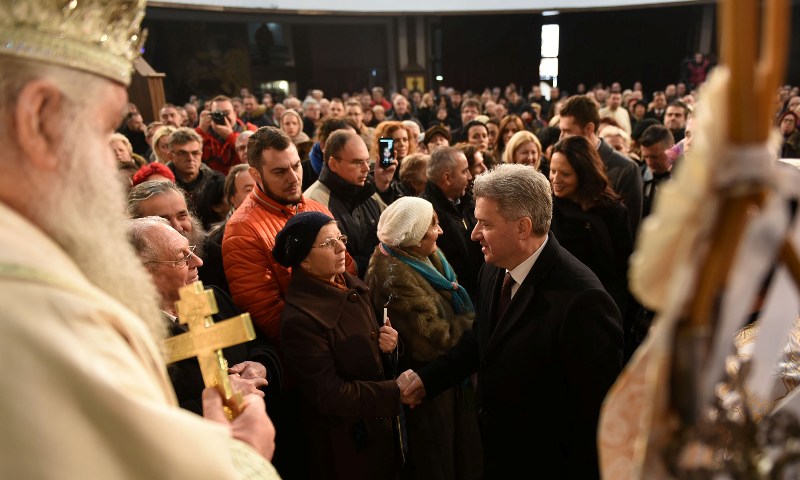 ---
Претседателот Иванов: Да си ја чуваме, почитуваме и сакаме Република Македонија
Претседателот на Република Македонија д-р Ѓорге Иванов, заедно со сопругата, г-ѓа Маја Иванова и синот Иван, денеска присуствуваа на централното одбележување на Рождеството Христово – Божик во Соборниот храм "Св. Климент Охридски", во Скопје, каде поглаварот на Македонската православна црква – Охридска архиепископија, г.г. Стефан чиноначалствуваше Архиерејска Златоустова литургија.
По завршувањето на литургијата претседателот Иванов на граѓаните со православна вероисповед им го честита големиот христијански празник Божиќ, посакувајќи им многу здравје, радост, среќа, но и сплотеност, како за празниците така во текот на целата година.
"Празниците не се само за празување туку и за потсетување, да не потсетат на сето она што ни овозможило да опстојуваме низ вековите. Да не потсетуваат дека треба да го сакаме, почитуваме и чуваме, тоа што го имаме, а не тоа што го немаме. Затоа, да си ја чуваме, почитуваме и сакаме Република Македонија, бидејќи неа ја имаме", рече претседателот Иванов.
---
---
---
---
The World Macedonian Congress welcomes independent writers and Journalists. If you have a story which you would like us to publish, please get in touch with our Editor by clicking on the button below.