Open letter to Zoran Zaev, and the City of Skopje Mayor Petre Silegov
World Macedonian Congress – Australia (WMC-A) would like to bring to your attention, in regards to the removal of the Monument of freedom fighter for the Internal Macedonian Revolutionary Organisation  ( IMRO – VMRO) Andon Lazov Yanev – Kjoseto, on 22 February, its interest in the preservation of the memorial within the Republic of Macedonia.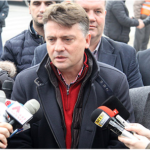 Skopje Mayor Petre Silegov said on Thursday, "The City of Skopje will no longer tolerate illegal and unapproved procedures and has started to take action on the Skopje 2014 project".
"All of the unauthorized activities of the former administration in the capital will be adequately dealt with in accordance with the laws", Silegov also told a news conference.
The monument was removed under the cover of darkness from the corner of the Supreme Court due to the "busy nature of the intersection" and that the donated memorial was an illegal installation under the Skopje 2014 project by the former government, VMRO DPMNE.
The World Macedonian Congress of Australia co-chairman, Mr Jim Stefanovski and Mr Goran Kotev are registering their interest in the preservation of the monument, and its safe relocation within Republic of Macedonia to another location, if it is not wanted by the Mayor and Mr Zaev – "the memorial belongs to the Macedonian people", they said.
Rumour has it that the monument, which was a donation, to the City of Skopje will either be relocated to Blagoevgrad in Bulgaria or will be destroyed at the smelter.
World Macedonian Congress – Australia, in this instance will make an offer to purchase the monument from the Zaev administration as the memorial belongs to the Macedonian people, Kjoseto is an integral historical and heroic figure for the Macedonian cause, and that the issue of erection of statues on 'government land' being declared as 'illegal' by subsequent governments is tantamount to cultural genocide for political point scoring and is a poor reason . This can be equated to 'Kristallnacht' in Germany – burning books and cultural artefacts of the Jewish nation.
The Macedonian history is not for sale, regardless of which friendship treaties are signed by governments, and destroying and removing cultural artefacts and historical monuments is akin to cultural and ethnic genocide of the Macedonian nation.
WMC-A Chairman Jim Stefanovski stated, "Kjoseto belongs to the Macedonian people. The World Macedonian Congress and the majority of Macedonians in Australia are keen to place a tender in for the purchase of the monument for Kjoseto to remain in the Republic of Macedonia. We do not want to see it leaving the country and we sure don't want to see it be totally destroyed."
---
For all Media Enquiries
Please contact National Executive Director 
for WMC-A Media & Public Relations
or
WMC-A Branch Executive Director of State Affairs – NSW & ACT